Onsite Pro Job Sheet App
---
With your own Onsite Pro mobile job sheet app and secure, cloud-based business management system - you are able to quickly and easily create and assign jobs, quotations, orders, job requests and invoices.
Efficiency significantly increases as you live push jobs to a specific group or a single engineer, then live track staff locations and job progress whilst they work on the job you've set from your desk.

Field engineers record all on-site activity, time, and parts used, before handing their ios or Android mobile device to the customer to sign off.
Once signed off, you and your customer instantly receive an email verification which contains a pdf attachment of the signed and geo-located job sheet.
---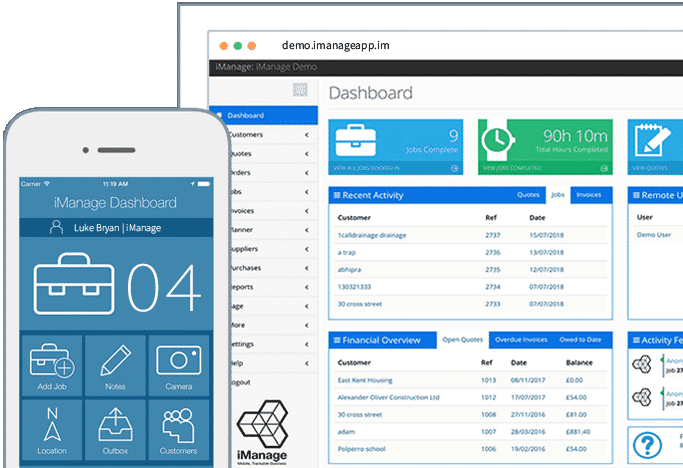 Easy to use Mobile Job Sheet App
---
Job sheets have always been the core of Onsite Pro (formerly iManage) features. When the original Application was created back in 2011, completing a signed, tracked, mobile job sheet and having it immediately accessible from anywhere in the world was unheard of.
Having an Onsite Pro powered business ensures worksheets are accessible 24/7 via your secure web portal. Allows on-site signature capture for instant job confirmation, and enables location tracking; giving you real-time information on where your engineers are so you can allocate jobs much more efficiently.
Fully journaled historical data means that you can also simply and instantly access previous completed jobs, resend a copy of a jobsheet, quote or invoice and trace your engineers' movements from previous weeks – you have full control.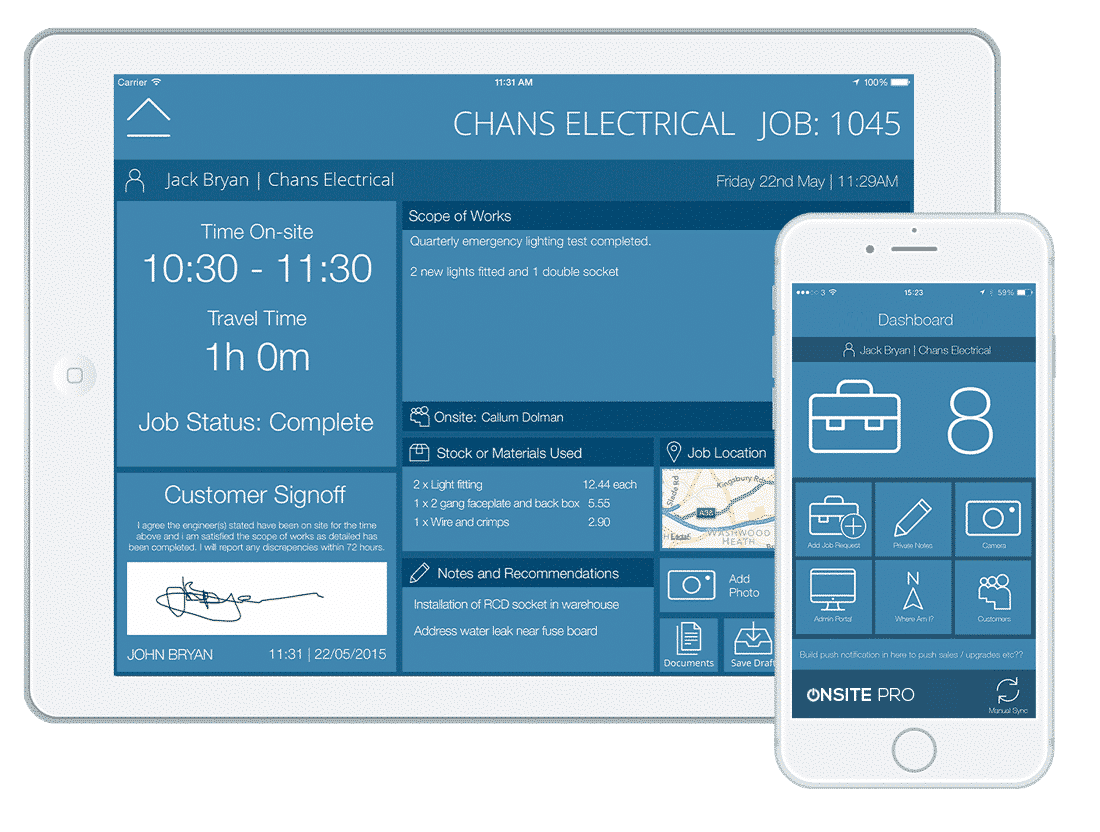 ---
---
Push jobs out to staff or contractors

Instant two way sync of new and completed job sheets, drawings and photos

Attach files, plans, drawings

Attach Maps. blueprints, plans, pictures and risk assessments to jobs

Track Engineers live, and historic location

Onsite Pro lets you know where an engineer is, or was last Thursday.

Track your work and financial progress

Live track new and in progress quotes, Jobs and invoices via online dashboard
---
The Onsite Pro Dashboard
---
The fully secure dashboard is where you go after login, giving you an immediate overview of your business - all the features are just a click away, and the critical information is visible on one screen. With activity feed, you can see recent jobs, quotes and invoices, and view statistics.
Along the top of the Dashboard, you'll see an overview from the four core areas of iManage beginning from the first of each month. These include total jobs completed, total hours completed, the total value of all issued quotes and the total amount of all invoices issued.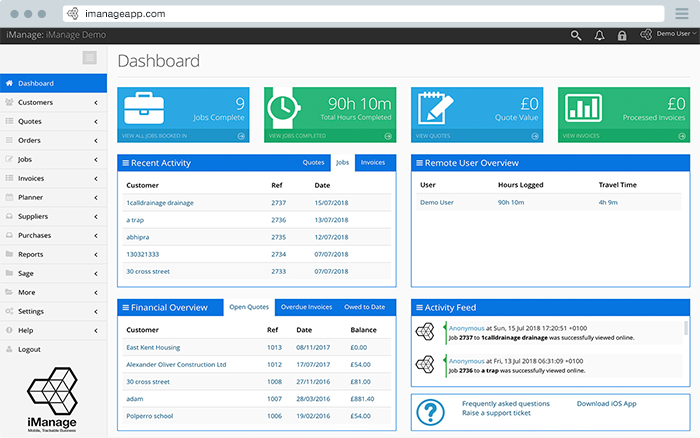 ---
Onsite Pro does everything your service business needs.
Hover over the boxes below to read a brief description of each feature.
---
Mobile Work Sheets
Create and send jobs (or create on a mobile directly) to individual engineers or groups of staff, who then complete set tasks, record and track time, add notes, attach pictures, stock supplied and when done hand to customer for approval and physical sign off.
Quotes and Invoicing
Create simple, easy, personalised quotes, jobs, invoices, purchase orders and credit notes to send via the Onsite Pro messaging system.  Onsite Pro records every open of documents - which enables you to weed out those naughty clients who tell you they haven't seen the invoice or job sheet as a way of delaying payment!
Engineer Management
Set up all your staffs devices without the need for them to come into the office.  Then live-push jobs out to individuals or groups of workers - ie first fix, second fix, builders, plumbers, support etc, and assign jobs to the group.  Live track the progress and locations of your engineers in real time.
Signature Capture
Once a job is complete and all labour time and materials supplied have been added, your engineer hands their iPad, iPhone or Android devices to the client to obtain a physical signature of acceptance.  The job sheet is also geo-stamped with time and location to avoid fraudulent entries.
Notes and Pictures
A picture speaks a thousand words, so why not take a picture of your recently completed job, then highlight it via drawing directly on to the image.  Or want to point out a future issue? - then issue a job or site note that can be viewed and referred to privately or by all parties involved in the job.
Stock System
Often, onsite work requires the supplying of replacement parts, goods or consumables.  Onsite Pro comes with it's own integral and simple to use stock/ product management feature - so you can ensure your clients are charged for all parts used on the job.
Activity Feed
Although the dashboard is complete with everything at a glance, we have included an 'Activity feed' under each customer section.  Which is a live running data logger of everything that's happening with your clients or within your business.  This ensures nothing gets done (or not done) without you knowing about it!
Improved Cash Flow
We have proven testimonials, from multiple clients that using Onsite Pro has improved their cash flow.  The combination of trackable documents, instant delivery, live job and engineer management give you instant improvement in all areas of your business...gets you paid faster.
---
Onsite Pro users include: Electricians, IT Support Companies, Plumbers, Mechanics, Kitchen Fitters, Gas Fitters, Air Con Installers, Facilities Management, Care Homes, and more.